Asha Atlanta Game Night '17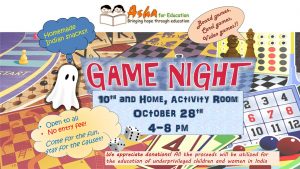 This Halloween, we at Asha for Education are happy to announce an evening of fun, games, conversations, and of course, lovely home cooked Indian snacks — yes, it's time for Game Night 2017!
Date: October 28th, 2017
Venue: 10th and Home Activity Room
Time: 4 to 8 pm
FREE ENTRY!*
RSVP at https://goo.gl/forms/givTPe1r6dRHwPKP2
There'll be board games, card games, and even video games, and a ton of fun to be had. So mark your calendars NOW! Bring your friends! Let's all have a great Saturday evening.
* We accept donations. All proceeds from this event will be utilized to support projects for the education of underprivileged children and women in India.