Asha Atlanta Game Night '18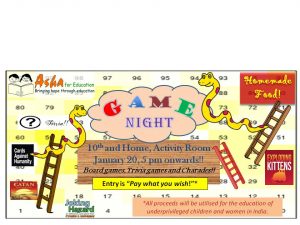 We at Asha for Education are happy to invite you to our first event this new year – Game Night spring '18: an evening full of fun, games, conversations, and of course, lovely home cooked Indian dinner.
–: Details :–
————————————————–
Date: January 20th (Saturday)
Venue: 10th and Home Activity Room
Time: 5 to 9 pm
Entry: Pay as you wish!*
RSVP here , or hit Going on Facebook
————————————————–
There'll be board games, card games, trivia, charades and more! So mark your calendars. Bring your friends. And stay tuned to our Facebook event page for future announcements.