Ganesh Chaturthi Celebration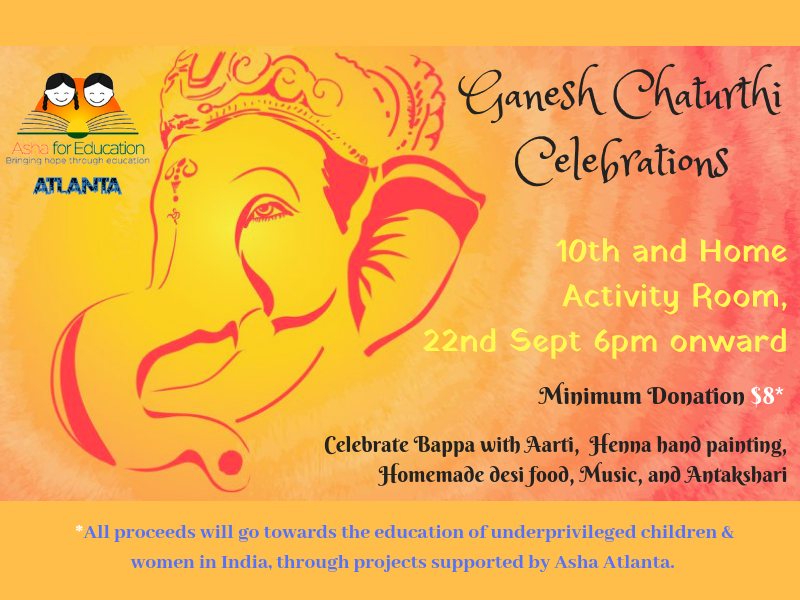 Ganpati Bappa is Coming Soon!
Asha for Education Atlanta invites you all for a festive celebration in the auspicious week of Ganesh Chaturthi on 22nd of Sept, Saturday!
Come, soak in the festive fun with Aarti, henna paintings, Indian food, and Music. Adorn all those colorful Indian attires and let's celebrate Ganesh Chaturthi with the same grandiose atmosphere as we do it back home!
–: Details :–
————————————————–
Date: September 22nd 2018 (Saturday)
Venue: 10th and Home Activity Room
Time: 6 PM onwards
Minimum donation: $8
---
*All proceeds will go towards the education of underprivileged children in India, through projects supported by Asha Atlanta. Visit atlanta.ashanet.org/our-projects to know more.
Ganpati Bappa Morya _/\_
वक्रतुण्ड महाकाय सूर्यकोटि समप्रभ ।
निर्विघ्नं कुरु मे देव सर्वकार्येषु सर्वदा ॥
Meaning – (I meditate on Sri Ganesha) Who has a Curved Trunk, Large Body, and Who has the Brilliance of a Million Suns,
O Lord, Please make all my Works, free of Obstacles, always.
So mark your calendars. Bring your friends. And stay tuned to our Facebook event page for future announcements.