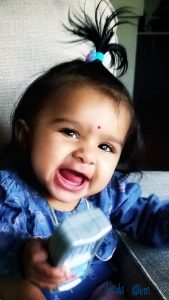 Asha for Education's Registry of Hope provides you a wonderful way to let your friends and family know that you support their cause by making a donation gift in their name. At this milestone in Priyanka & Anirudh's lives, give a gift of hope to a child in India.
Message from the parents:
Dear family & friends,
Thank you for being a part of Veda's first year and showering her with your love & affection in many ways. She is lucky to have you in her life and we are truly humbled and grateful when we count our blessings.
Being in a parents role, makes us feel compassionate for those unfortunate families or kids who do not have the same privileges that we are blessed with to give their children what they need and want. There are millions of children who do not have access to basic education, healthcare and other necessities.
Therefore, we have a humble request to kindly refrain from buying gifts for Veda, who already has tons of toys and other things and instead donate her "birthday present" proceedings to 'Asha for Education' – a volunteer driven not for profit organization dedicated to the cause of providing basic education for underprivileged children in India.
We were lucky enough to have supported a child's education needs in India with Atri's first birthday proceedings in the same manner. And now, we can't think of doing anything different with Veda's first as well!
The project we are supporting this time is 'Kalyania' – To provide primary education to children in slums up to 4th grade, give vocational training to women, provide healthcare to financially and psychologically deprived children, women and elderly people. You can read more about this project and other current projects in the link provided below.
https://atlanta.ashanet.org/our-projects/  

Please click here to donate.
Thank you so much for your understanding, support and your generosity.
Grateful,
Priyanka & Anirudh